Camps are usually viewed as a "Summer" event, maybe even at times as a "Special" event, but have you ever considered what the camps are doing for training?
If not, you may be missing out on one of the best opportunities to connect your clubbers to God and to deepen their walk with Him.
Camps provide opportunity to remove distractions from clubber's lives, enable focus on a deeper relationship with Christ, and nurture that relationship into Christian leadership. Summit camps are an excellent discipleship tool available to young Christians involved in the AWANA programs. Campers will grow their faith walk in an atmosphere that is welcoming and accepting. Camp provides a testing ground for the next step in emotional and social maturity within the framework of Christian teaching. The camp community provides a supporting "cheering section" for children and youth while making choices and decisions to follow the Lord.
Mission
To disciple children and youth through participation in Christian camps, identifying and developing leadership traits, so they might be better prepared to present the Gospel and live God-honoring lives.
Vision
The Summit Leadership Camp strives to increase Christian discipleship by providing Christian camp opportunities to T&T clubbers entering 4th-6th grade. The camp focuses on participants in the AWANA program so that they may become better prepared to be Christian witnesses and contributors to the Great Commission.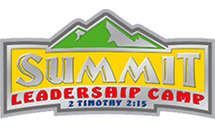 Learn More
Dates for camp: June 18-24, 2023
Applications will be posted to this page soon.